Barcelona Dental Show is the profesional platform where to lead the digital dental technology
The latest solutions and innovations for the dental sector meet in Barcelona from January 26th to 28th, 2023. An innovation showroom in which entrepreneurs and professionals in dentistry, dental prosthetists, surgery, endodontics, oral hygiene and stomatology come in searching the clinical partner that offer them the innovations to take their dental practice to a new medical and business step.
If your company has solutions in the field of dental applications, instruments, consumables, equipment and the latest digital solutions for clinics and laboratories, Barcelona Dental Show is your business platform to get new generation leads in a market with great potential.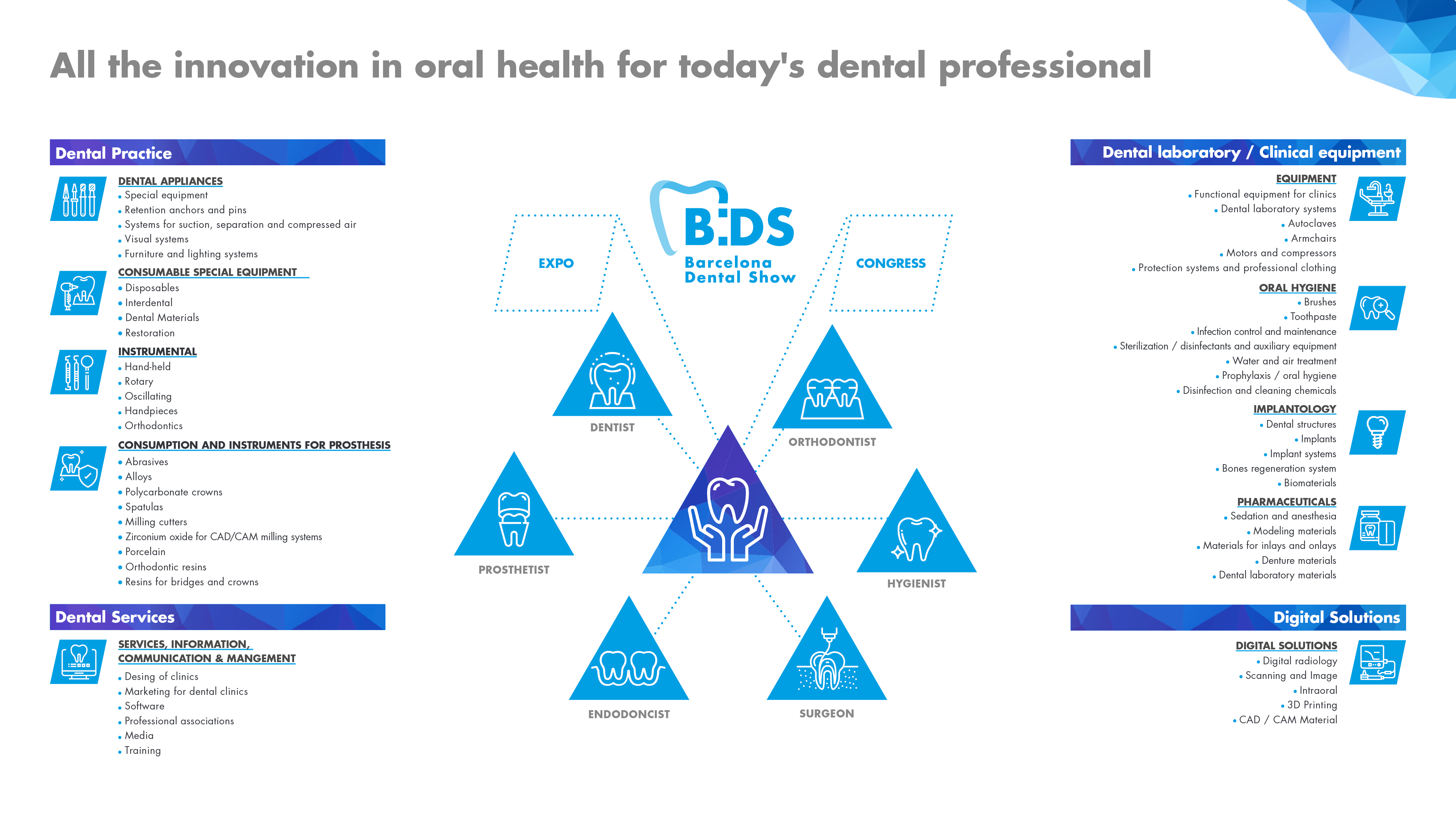 Dentists, anesthetists, implantologists, professionals in dental prosthetics and equipment, orthodontists or even stomatologists and speech therapists are professionals who know the benefit of the best possible care and the latest innovation in the evolution of the dental sector. Innovation represents a substantial improvement in the diagnosis, application and efficacy of treatment thanks to less invasive, shorter duration, less painful methods. It is necessary also in machinery, equipment and instruments for clinics and laboratories in order to improve patients comfort. This is what the dental professional looks for at Barcelona Dental Show.
If you think you can contribute an outstanding innovation in the sector this is your platform!
Include Barcelona Dental Show in your marketing plan and highlight your innovative solutions for the dental care market.
For three days, the main purchasing decision-makers in the dental sector are exclusively dedicated to learn about solutions of the most innovative firms present at B: DS, a unique opportunity to activate and accelerate the purchase process thanks to the engagement and loyalty of your customers.
Do you want to discover why B:DS gives you a different way to boost your sales?
Brand positioning thanks to the Barcelona Dental Show communication campaign
Showcase your latest innovations to your potential customers, media and prescribers
Participate in all stages of the dental clinic purchasing process
Activate and/or speed up the purchase process
Generate engagement and loyalty with your customers
B2B meetings with purchasing decision-makers, an audience of managers that no other event will provide
Knowledge transfer participating in Advanced Dentistry Congress
Benefit from the transfer of innovation through challenges
Impacts on periodic communications through our Newsletter throughout the year
Be part of a qualified Network in which you will be the main focus